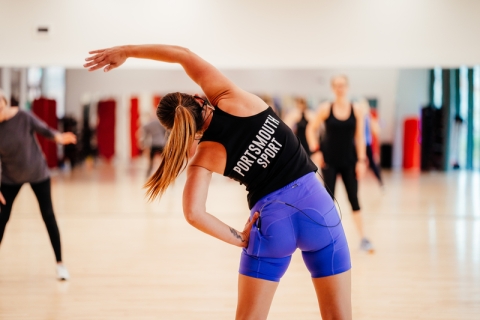 We've got some tips to help get you into your class as quickly as possible
With the start of a new year approaching, we thought this is the ideal time to provide you with all of the information you need to know about the checking in process and general etiquette for fitness classes. If you've been booking for a while then please make sure you follow the guidance to make the most of your class experience. If you're looking to start with some classes in the new year have a read before joining in the fun. 
We are still noticing that members are booking fitness classes and reserving a space, but are not attending classes. To catch those offenders we're making some changes to make sure all of you that are turning up have been properly checked in. It's not possible for all of our instructors to manually check in each person as they arrive to their fitness class as it would take too much time when all we want to do is get to the class. We also wanted to make sure that all of our members and customers are aware of general class etiquette to avoid confusion in the future. To combat the issues, you may have noticed we've started to implement a few changes already. We're now rolling this out to every class as it seems to be doing the trick.
As of Tuesday 3 January, the following class processes will be implemented:
1. Swiping in:
You will need to make sure you swipe in before each class you attend, as this is how your attendance will be recorded. For fitness classes, you can either swipe in at the gym changing room door (by the turnstiles) or the door near the squash courts and adjacent to the basement stairs (nearest the studios). Even if someone holds the door open for you, make sure you still swipe your card.
2. Be early or on time, don't be late:
We really don't want to turn you away, so please make sure you arrive at least 5-10 minutes before your class starts. We have a zero-tolerance lateness policy. For your safety, if you miss all or part of the warm-up you put yourself at higher risk of injury and as well as this arriving late disrupts the class for both instructors and other members. Set your alarm a little earlier to make sure you're on time.
3. Wait to be invited in:
If you arrive at the class before the instructor is there, or if the instructor is preparing for the class, make sure you wait outside the studio until you are invited in.
As always, if you have booked a class and you are no longer able to make it, make sure you cancel beforehand so that someone else can take your place. You can cancel up until the start of the class through the UOP Sport Mobile app or through our online booking system connect.
We want as many people to enjoy our fitness classes as possible and with so many empty spaces in our studios but classes generally booked please help us to let people enjoy our classes.