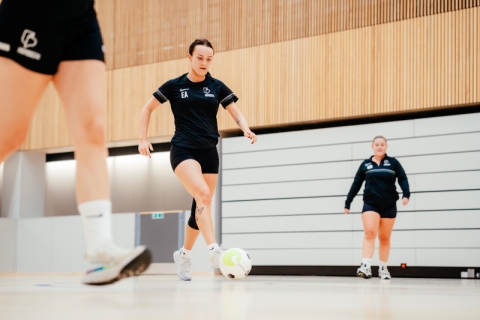 Enjoy 2-hour sessions in our Sports hall with an exclusive offer
Summer is here and most of us love to spend a day laying on the beach, playing badminton in a park, or having a BBQ with our friends in the garden. But what about those days when the weather is not very pleasant or when it's too hot to be outside? Why not try our Sports Hall? Sport and exercise are one way of bringing people together, keeping busy, and contributing to physical and mental health, which is why we are hoping to open up our services to even more people. 

For the month of July, we prepared a 'Buy 1 Get 1 half price' offer for all Sports hall activities. Whether you hold a membership with us, are a pay-as-you-go customer or even if you have never used our facilities before, our offer will allow you to book 2-hour indoor sports sessions for the price of a one-and-a-half session. We offer a wide range of activities for you and your friends from Badminton, Table tennis to Futsal, Basketball and Volleyball. This exclusive offer will be available for a four weeks period between 3 July and 31 July, so do not hesitate and book your sessions today.
How to book?
To book your 2-hour discounted sessions, download our UOP Sport app, where you can book them in the 'Sport Bookings' section. Alternatively, please visit or call Ravelin Sports Centre and speak to our reception team, who will be able to book the sessions for you. 
Sports hall
Members
Non-members
Discounted
Original
Discounted
Original

Badminton

£7.90
£10.50
£15.75
£21
Basketball ½ court
£30
£40
£37.50
£50
Basketball full court
£45
£60
£60
£80
Dodgeball
£45
£60
£60
£80
Futsal
£45
£60
£60
£80
Netball ½ court

£30

£40
£37.50
£50
Netball full court
£45
£60
£60
£80
Table Tennis
£7.90
£10.50
£15.75
£21
Volleyball ½ court

£30

£40
£37.50
£50
Volleyball full court
£45
£60
£60
£80
Want to find out more information about Sports Hall activities at Ravelin Sports Centre?