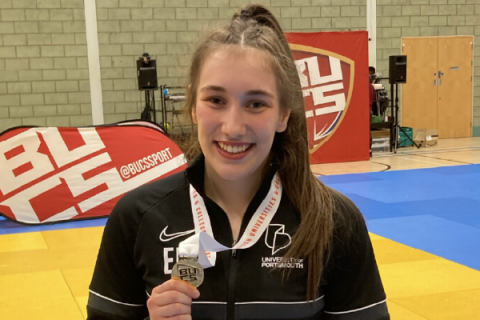 Another gold medal was added to the university collection last weekend.
Following on from our student athlete's recent success in Shot Put and Taekwondo, Emily Niven, our Judo sports scholar represented the university at the BUCS Nationals Judo Championships. If winning two golds as a university wasn't already enough, Emily added to this, bringing home another gold medal. This year's BUCS Nationals Judo Championship took place in Wolverhampton, with individual competitions taking place on Saturday 26 February and team competitions on  Sunday 27 February.
Emily is a third-year placement student with us studying BA (Hons) Economics and Management, whilst competing in judo nationally and internationally and being part of our Sports Scholarship Scheme. Emily's past sporting achievements include coming third place at British National Championships in 2019 and winning a gold medal at the BUCS Nationals in 2020. 

Emily fought in the category - Women's Dan grade (under 70kg). The battle for gold was tough as Emily was faced with three opponents from universities who historically do incredibly well in BUCS events, the University of Nottingham, the University of Glasgow and the University of Edinburgh. Glasgow currently sits in the top 25 universities in the BUCS table, Edinburgh and Nottingham are currently in the top 10, with the University of Nottingham currently holding 1st place. Despite this, Emily managed to win all three of her fights.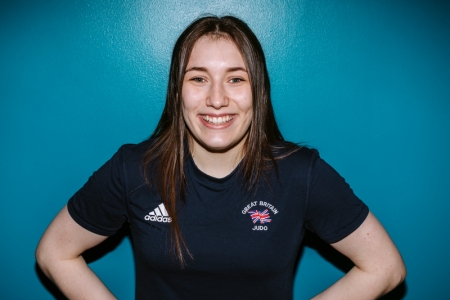 I felt a bit of pressure going into this competition as I won Gold in this category at the last BUCS Nationals. However, I just tried to focus on enjoying it, as it was one of my first competitions back since Covid. Winning Gold means that I've qualified for the European University Games in Poland, in July. This will be my first European University Games, as when I qualified last time, they were cancelled due to Covid. I'm really looking forward to representing the University of Portsmouth at an international level
Emily aims to continue to win medals domestically and gain experience in international competitions at a senior level. We are incredibly proud of the dedication presented by Emily and all that she has already achieved, we can't wait to witness her future achievements.