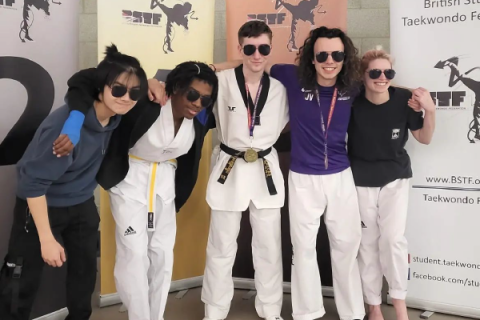 Scholars bring home silverware after competing in Taekwondo and Karate Championships
We are so proud of our students, who regularly represent the University in their sport at highly anticipated sporting events. Last weekend saw many of our sports scholars compete. Three of our scholars managed to bring home medals, giving us another gold, silver and three bronze medals to add to our collection and contribute to our overall number of BUCS points for the year. 
Ericas Luckauskas and Joseph Ventre, both represented the university at the Taekwondo Spring Championships. They travelled to the UEA Arena in Norwich, where they came face to face with elite athletes from a range of other universities. Ericas managed to bring home gold after winning two fights against students from the University of Southampton and Imperial College London. Ericas is very pleased with his performance at this event and throughout the course of the year and will now turn his attention to training for his upcoming competitions, the Sweden Open, the U21 selections and the EUSA universities games.
he BUCS Spring Championships was an amazing experience as I won gold for the University. Now I'm focusing on training for my next competitions: Sweden Open, the U21 selections and for the EUSA universities games that I've just qualified for after securing my spot with my 2 gold medals in the -63kg category. I'm very pleased with my performances and can't wait to get back in the ring again! I also want to say how proud I am of all the amazing people from the Taekwondo & Karate club that went to their first competition and all won at least a fight, it was a great experience for them all and I couldn't be more proud of their efforts! We ended up finishing 18th out 36 teams with only a 5 in the team!
Joseph Ventre also managed to bring home a bronze medal, despite it being his first competition since 2020 as a result of the pandemic and injury. We are incredibly proud of Joseph, Ericas and the entire Taekwondo & Karate club for performing so well, giving the competition their all and positively representing the University of Portsmouth at a BUCS event.
With it being my first competition since 2020 I felt the pressure of not competing in so long due to Covid and an injury. Those nerves soon disappeared once I started fighting! I really enjoyed the experience and I am looking forward to my next competition.
As well as our two Taekwondo champions, another of our scholars Victoria Vivona, competed in the Bracknell 21st Legend Open Shotokan Karate Championship and won two bronze medals and one silver! The is a traditional, Budo karate competition run under SKDUN Shobu Ippon rules and sees up to 650 students competing for medals across one day.
This was my first competition of the season and bringing so many medals at home considering I have not fully recovered from my knee injury yet has made me feel so proud and grateful for all the people who have helped me during my preparation! I can't wait to win more!
We really couldn't have asked for a better weekend of sport and are excited to follow all of our students on their future sporting ventures!
Sport scholarship applications will be open from January 2023, do you have what it takes to achieve?