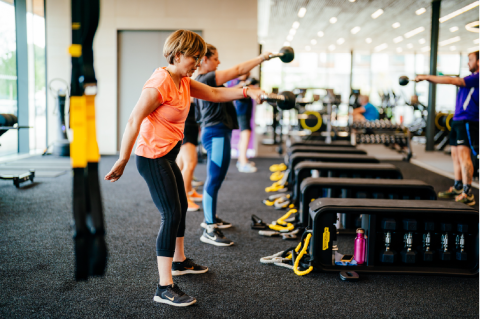 Our Group Training sessions can improve fitness, mobility and strengthen your core
We are excited to announce that we are adding 3 Gym Floor Group Training Classes to our Gym Services offering. Our Gym Floor Group Training Sessions are in small groups and take place on the gym floor. These are ideal if you are looking to mix up your workouts and try something a little different. 
The Sessions
Gym Mobility - 30 min session to improve your mobility to perform everyday movements more efficiently and effectively.
Gym TRX - 30 min session using TRX suspension training to improve core strength and functional movements.
Gym Fit - 30 min session using the technogym benches and equipment to improve your all round fitness.
Who Can Book?
These sessions are only for Ravelin Sports Centre members who have the Gym option included in their membership.
Booking Gym Floor Training Sessions
You can book these sessions on the UOP Sport app for no extra charge if you have the gym option included in your membership. You can find them under the Gym Services tile and you can book up to 7 days in advance.
Attending the Session
Booking onto these sessions will give you access to the gym and will automatically book you on to a gym session too. So you will be able to use the gym as normal for up to 30 minutes after the class. To ensure the session can start on time, meet your instructor 5 minutes before the start time in the functional area of the gym.