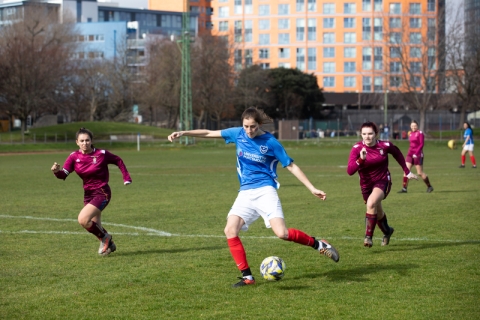 6 questions answered to get you back to sport
Welcome back Team UOP, we can't wait to open the Langstone gates and welcome you back with socially distanced open arms from 29 March. We're excited to be able to get you involved in student sport again from 29 March outdoors. It's been a while since we've been able to meet with our friends and throw or kick a ball, swing a stick or racket, or get on the water.

We can't guarantee the weather (I mean, can you ever at Langstone) but we can guarantee you'll have fun.
How can I get involved again?
If you want to get back into sport the first thing you need to do is get in touch with your committee through your club social media account. They'll be ready and waiting to give you specifics about training days, times and how many people are allowed to take part.

If you've never been a member of a club before but still want to get involved - just get in touch with the club of your choice. All social media links can be found on the sports club pages. You'll be able to have a chat with the committee members who can give you all the information you need.
Which sports are restarting?
We're looking forward to getting as many sports started as possible, but we're waiting for each sport's National Governing Body to release guidelines to return to play. These can differ from sport to sport, and also differ to Government guidance by being more cautious. If you get in touch with your club - they'll be able to give you more information. We have included NGB guidance links on each club sport page if you wanted to take a look yourself. We understand it's Easter vacation from 29 March - but we didn't want to wait any longer.
How much will it cost?
We just want you to get involved in sport again, so all sport club activity will be free until the end of term. There won't be any trials, just a chance for you to Play, Train and have a great time before the end of term.

Will we be able to compete?
At this stage, we're just excited to get students back playing sport in some capacity. We do not currently have any plans for competitions but will be monitoring government and NGB guidance as it's released. We'll provide updates on competitions if and when we have some more information.

We will be running Campus Sport social leagues for Netball, 5 and 7 a-side football. These will also be free to get involved in and places will be issued on a first-come-first-served basis, so get your WhatsApp groups back into action, and email campussport@port.ac.uk to register your interest.
Is there anything I can do before sport starts again?
We're hopeful you've managed to use a number of challenges, and resources to stay active during the multiple lockdowns. If you haven't, start to build up your physical activity before you return fully. We have a return to the gym programme available for free which will help you strengthen yourself to prevent the increased risk of injury. Try and get out for a run or two as well, but you can always ask the advice of your club if you want specific advice.
What about Indoor Sport?
Unfortunately, on the Government roadmap, indoor sport isn't due back until 17 May at the earliest. If your sport is predominantly played indoors still get in touch with your club, there may be activities you can still get involved with.
Whatever your sport, whatever your level let's get playing once more and get ready for the competition comeback. We want you to stay fit and ensure you prevent getting injured in the first few weeks. St. Paul's Gym will be reopening on 12 April, with gym membership only £15 per month and with no contract, it could be a great way to get your fitness back up to speed and prevent injuries.